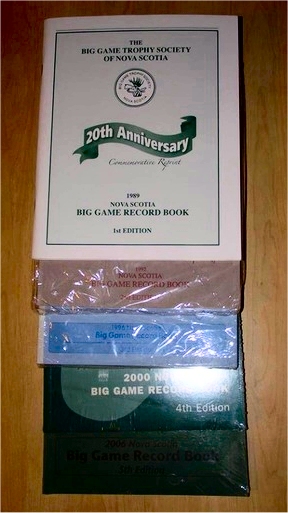 Following is a list of Big Game Record Books complete with prices; use this Book Order form  to download the order form for purchasing the books. Many of our Directors  and members have copies of the Books and may be purcahsed directly from them. Or you may send us a message on the Contact page or use the message form at the bottom of this page.
1st Edition - $20.00
2nd Edition - $5.00
3rd Edition - $8.00
4th Edition - $12.00
5th Edition - $15.00
Complete set of 5 - $40.00
Big Game Society of NS Scorer's rules and procedures
1. Scorers cannot score their own racks for registration in the records.
2. Complaints from the public about scorers admitting to poaching may be grounds for review by the board of directors.
3. A scorer is a volunteer and may not charge a fee for services. A scorer that uses the society for personal gain may be removed from the Society.
4. All trophies are measured by Boone and Crockett rules.
5. Scorers are expected to hold in confidence where a trophy was taken if the owner wishes. Owners are encouraged to provide exact locations of the kill, but county is the smallest location that will be printed.
6. For trophies to be listed as hunter taken it must be taken under rules of fair chase. The terms of "Fair Chase" shall not include the taking of animals under the following conditions:
A. Violation of the hunting regulations of N.S., as related to fair chase
B. Helpless in the water or ice.
C. From any powered vehicle or power boat.
D. While confined behind fences as on game farms, etc.
E. By "jack lighting" or shining by night.
F. By use of any power vehicle or power boat for herding or driving animals, including use of aircraft to land along side game or communicate directly with hunters on the ground.
G. Use of electronic devices for attracting, locating, pursuing game, or guiding the hunter to such game.
H. Any other conduct considered by the board of directors to be unsportsmanlike.    
7. Trophies taken with the use of drones/ Unmanned Aerial Vehicles, including scouting are not eligible for entry in the book.
8. Trophies taken with the use of trail cameras, including scouting, are eligible for entry only if the hunter has to remove the film and or a card from the trail camera itself to retrieve the image. Trophies taken by the use of trail cameras, including scouting, that transmit images to a computer or base station for viewing are not eligible for entry for the book.
9. Antlers of zoo or captive animals are not eligible for the book.
10.
  A. No person will receive any recognition either by name association or picture for trophies taken by unfair chase.
  B. Any registration fees for the trophies that are not accepted by the Society will not be refunded.
  C. Conviction under the wildlife act of Nova Scotia or the practice of unfair chase by the hunter / owner is grounds for all recognition removal that is permanent and retroactive.
11. Trophies that are unregistered, taken in unfair chase, etc. will be listed in the supplementary record list by score only. Photos of Boone & Crockett trophies without people are permitted
12. Registration categories are for deer, moose, bear, and shed antlers. Other categories such as caribou, etc., are on a review basis by the Society records committee.
13. Society entry minimums will not change without authorization of the board.
14. Sheds may be registered with the society if they meet the minimum entry score. Each shed must be registered separately to be included in the record shed listings. The option of listing picturing both sheds together is allowed even if the one shed does not make the minimum.
15. The Society keeps records on freak antlers, locked antlers, old pictures, pictures of live notable animals, antler weight, info from other provinces, panther/ cougar sightings, etc., as well as trophies taken by hunters. 
16. The Society official score is final. If the trophy is perceived to be more than 2% off, then an application can be made to the scoring committee along with a $10.00 rescoring fee that may be refunded at the discretion of the committee.
17. Trophies such as pickups, road kills, green scores, etc. shall be noted as such.
18. The three top trophies for each big game species may require a panel score of three society scorers in lieu of an official Boone & Crockett scorer.
19. All Boone & Crockett quality trophies should be photographed regardless of payment. Pictures and score sheets are our best protection for N. S. trophies.
20. Patches are available only by registering a trophy or being a member of the society.
21. To be a scorer, an application must be submitted to the society, along with scorer's membership fee, before training.
22. The society accepts scores from out of province scorers that accredited scorers with other Provincial or State record keeping groups, using the Boone & Crockett method.
23. Trophy owners must make the scoring appointment at a place and time that is convenient for the scorer. Whenever possible Boone & Crockett quality bucks should be scored by official B&C scorers. Trophy owners should be informed that only official B&C measurers can enter scores into the Boone & Crockett record book.
24. Scorers are given an identification number that they should always use when signing score sheets, receipts, and the back of racks.
25. Scorers should ask the owner if the rack was officially scored before, if it has, do not rescore it. Refer the owner to the scoring committee.
26. A sixty day drying period at room temperature is necessary before official scoring of any trophy.
27. Skulls must be clean, dry and intact before official scoring. With bear skulls many warm water baths (less than 150 F.) and scrubbing often accomplishes this. After cleaning, a sixty day drying period before official scoring. Caution not to saw off the back of the skull when detaching from trophy.
28. Rackulator is a commercial electronic scoring device that is used for scoring this is not permitted to be used for scoring trophies for the book. Only traditional scoring tools are permitted.    
29. Be sure the score sheet addition is correct. Please print clearly. Neatness makes checking easier.
30. The trophy owners name, address, and phone number should be printed and spelled correctly.
31. If the owner agrees sign your scorer's number and score on the back of the mount or skull.
32. Rub off your pencil marks or ask if you can leave them on.
33. Document on the score sheet anything unusual you have done or are unsure of.
34. If the owner pays to register the trophy mark the score sheet paid and the amount. Take a picture of the trophy. Give the owner a copy of the score sheet marked paid, etc. Tell the owner this is his receipt and to hang on to it.
35. All registrations are $15.00. Each paid entry receives a patch, certificate, a listing in the record book by trophy score, a picture of the owner/ hunter with the trophy along with a caption in the record book. This does not include a record book.
36. All past trophy registration shall receive record book notice as per mailing list.
37. All unpaid score sheets that make the book should be marked unpaid and sent into the society on regular bases.
38. Scorers are encouraged to accept registration fees and photos but are not required to do so.
39. Trophy owners may register themselves by sending their registration fee, score sheet, and photo into the Society.
40. Trophy owners are encouraged to send in field pictures of their trophy. Pictures taken in a natural setting are preferred. Avoid pictures on vehicles, distracting background like tangled brush, and laying rifles or bows across the antlers. Pictures can be returned to the owner upon request. The Society reserves the right to edit the pictures.
41. Photos taken by scorers should be marked lightly on the back with the owner's name, and score. Avoid stapling the picture to the score sheet. Paper clips or scotch tape with the picture face down on the score sheet works best.
42. The cost of photos supplied to the society by the scorer for book entries can be reimbursed to a maximum of $1.00 per photo with a limit of two photos per entry.
43. Scorers receive recognition in the record book for trophies they have measured. This also curbs score shopping.
44.  Scorers should send in score sheets and photos as soon as possible. We have to check and process each registration before printing. Unregistered sheets that make the minimum score must also be sent in this is very important to prevent score shopping.
45. Panther/ Cougar reports should be sent to the Society. Scorers should ask people about panthers, many people have seen them.
46. A scorer that does not have at least one entry in two years may be automatically retired unless they request retraining.